At Academy of Our Lady, we are constantly striving to increase communication between home and school in order to increase student achievement. The Parent Portal for PowerSchool will be available to all parents of students in grades 4-8.
The Parent Portal is PowerSchool's external interface that provides secure, real-time access to your student's grades, attendance, assignments and teacher comments. You can view this information from any computer with internet access. It has been our experience that PowerSchool works most efficiently using the Firefox or Safari web browsers.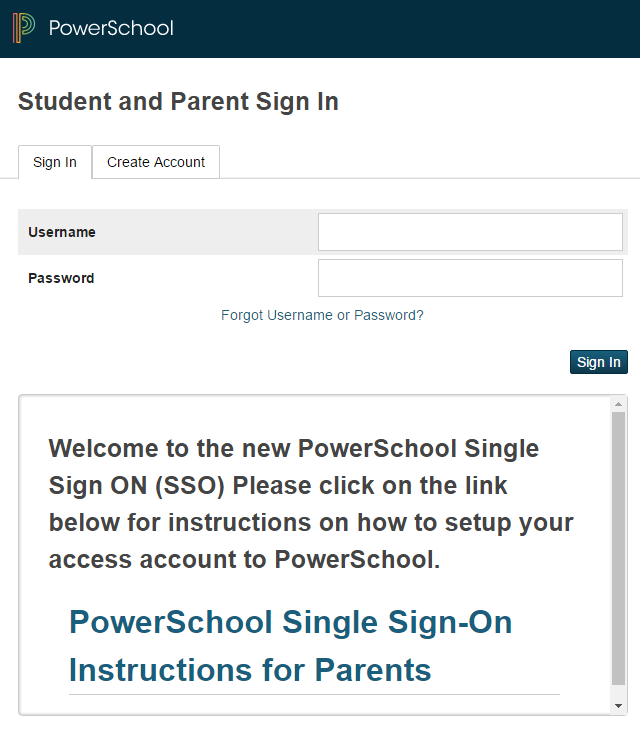 **IMPORTANT** The PowerSchool system was updated during the summer of 2016 in order to provide single-sign-on (SSO) access for parents/guardians for students in 4th-8th grades. SSO allows a parent or guardian to access all of their students' accounts using one username and password. Due to this upgrade, your current username and password will no longer work and you need to go the PowerSchool Parent Portal to create a new one.
The PowerSchool Parent Portal web address is:
https://psrcan.psisjs.com/public/home.html
Click on the Create Account tab (next to Sign In) and then click the blue Create Account button. Fill in the necessary information and click Enter. Please note, you will need your current PowerSchool username/password for each of your students in 4th-8th grade.
You can also click on the blue link at the bottom of the sign in screen "PowerSchool Single Sign-On Instructions for Parents" (see picture to the left) or watch the video below for step-by-step directions.
There are also four PDF documents at this bottom of this page with printed step-by-step instructions for Creating An Account, Adding Students, How to Recover Your User Name or Password and How to Reset Your Password.
For parents of 4th-grade students and new families ONLY! Parents will be given their confidential usernames and passwords for each child they have in 4th grade or in the school. You will receive this login information at Back to School night or if you can not attend, via regular mail with the US Postal Service. This ensures the security and privacy of your child's information.
If you have any questions, please feel free to contact Mrs. Jennifer Buckman jbuckman@academyofourlady.org or via the school phone at 201-445-0622.